Cathy Marshall Receives Award for Enriching Lives of Participants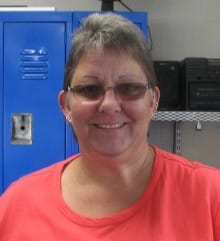 Achieve training specialist Cathy Marshall will receive an award last week for Enriching the Lives of Participants from MOHR (Minnesota Organization for Habilitation and Rehabilitation). Cathy has been with Achieve for more than 20 years and makes a daily impact on participants. She has led several group outings and she initiated the Achieve plant sales, which have created an exciting new opportunity for activity and learning. If you see Cathy this week be sure to congratulate her and thank her for all that she does!
Here is more about Cathy from her nomination letter:
Cathy Marshall has been an employee with Achieve for over 20 years. During that time, Cathy has shown dedication to the individuals she serves and strives on a daily basis to ensure their needs are met. Her ability to help each individual be as successful as possible is just one reason she would be a great recipient of the MOHR Award.

One of Cathy's greatest attributes is her fierce advocacy for the individuals served. She has built a relationship with everyone she works with and she follows up with team members about any concerns she notices. Her length of employment with Achieve gives her the unique ability to really understand the history of each individual – from medical to skill changes and everything in between. This understanding helps Cathy to notice changes quickly and to advocate for the individual when needed.

As winter winds to an end, Cathy transfers her love of gardening to Achieve, which helps foster jobs for individuals who do not typically work. Cathy works with individuals to purchase planting materials so the area can grow their own tomatoes, peppers, and plants. She then assists individuals with planting seeds in small containers. The individuals place the plants under the grow lights and water them as needed. When they are ready to be repotted, they hold a plant sale. These plant sales occur in the front lobby of the Blaine Human Service building, which helps participants of Achieve interact with different community members. The first day of the plant sale this year rose over $130! This creative employment opportunity was started by Cathy 7 years ago and continues to be a job that individuals participate in as they are able!

Cathy strives to get individuals out in to the community on a regular basis. She schedules her group to be regular helpers during craft shows, which allows for participants to get out in the community and work. She also works with individuals to schedule community outings that fit with their interests. This has included trips to the zoo, picnics, volunteering at Meals on Wheels or Feed My Starving Children, and outings to local restaurants. Cathy understands individual's different desires and works each day to help ensure they enjoy their time at Achieve.

Cathy's desire to help individuals succeed is huge! She has been a huge asset to Achieve Services and the individuals she serves. Her ability to think outside the box, find creative job opportunities for individuals who do not typically work, and desire to enrich the lives of those she works with makes her a great candidate for the MOHR award. It is for these reasons that I highly recommend Cathy Marshall for the MOHR 2014 Award Program.
Stay Connected with Achieve