PERSONABILITY: Jack Rasmussen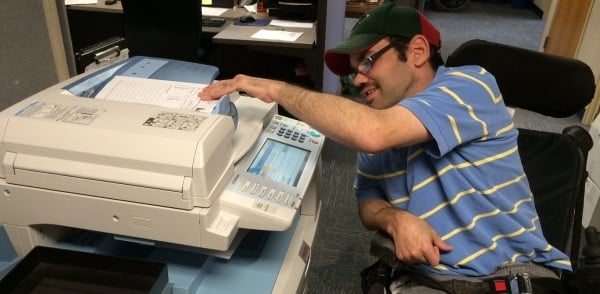 The ambition of Jack Rasmussen knows no end. He is on a constant search for the next job opportunity and he thinks outside of the box to find unique work that fits his skills and interests. In the few years Jack has been with Achieve he has become one of the most recognizable faces by spending time in the front office, the work room, and in the community. Jack recently was featured in our "Fund-a-Need" video for the Achieve's Spring Gala and was instrumental in getting us donations to purchase a new van.
We had a chance to interview Jack about his work and interests:
How long have you been working for Achieve?
JACK: I have been with Achieve for 5 or 5 years.
What are some of the jobs that you do?
JACK: I do the faxing. People write down what they need and I fax it over to Camilia Rose. I also sleeve cards in the work room.
What's your favorite job to do?
JACK: Anything and everything. I just like working.
What do you like to do when you're not at Achieve?
JACK: I actually have another job. It's with a company called Jack and James Construction. People call me for estimates and I set up appointments for them.
What does it mean to you to have a job?
JACK: It means I get money! I like the money I make working.
What were you doing before coming to Achieve?
JACK: I was working with another day program. I switched to Achieve because it was a better fit. There were more opportunities here.
Who are some of your favorite people to work with?
JACK: Lonny, Sherry, Mike, Pete. I get along with everyone. I like when we get extra outings or order pizza or do something different.
What are some of the outings you have done?
JACK: We go to Target or Northtown [Mall]. A lot of shopping.
Check out this video featuring some footage of Jack from the Achieve Spring Gala:
Stay Connected with Achieve