Action Alert! Contact Your Elected Officials!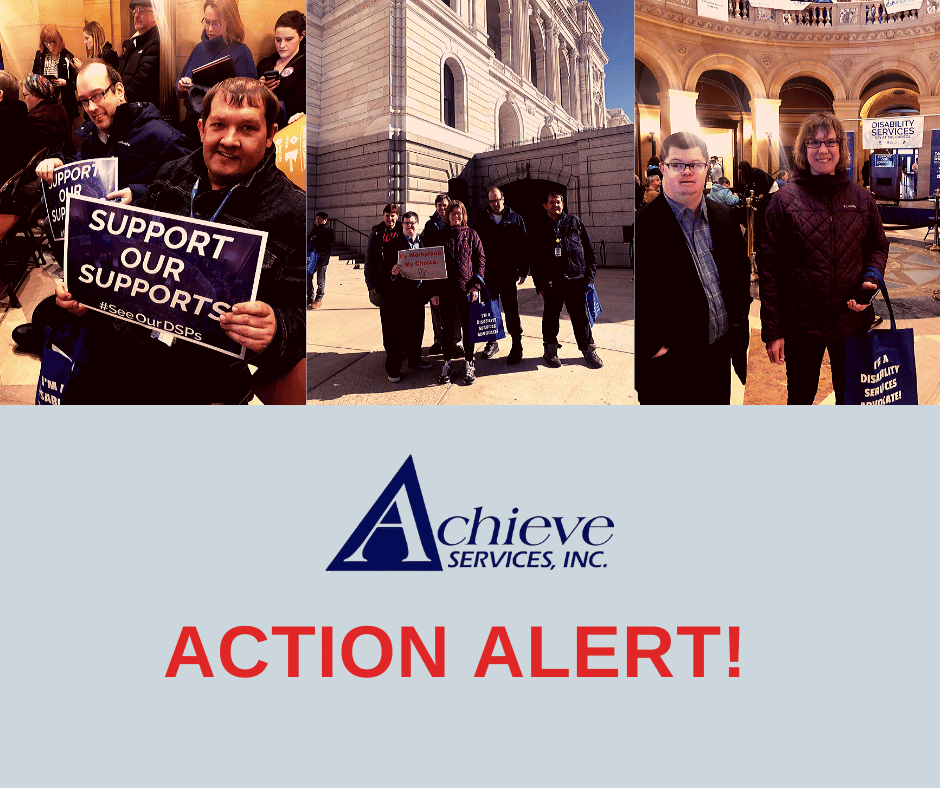 Sen. Jim Abeler and Sen. John Hoffman are fighting tirelessly to pass legislation to cover the fixed costs incurred by Achieve and other DT&H programs while our services are suspended due to the Coronavirus. But they cannot do it alone – we need to urge other legislators to support the efforts of Abeler and Hoffman! Please take time to contact your legislators and ask them to support the Fixed Cost Relief legislation!
You can find your legislators and their contact information here: https://www.gis.leg.mn/iMaps/districts/
Send an email or make a phone call – they need to hear your voice! Below is a sample letter you can use as a template. Things are moving quickly at the Capitol, so please act quickly. Thank you for taking action!
---
Dear Rep XXX / Sen XXX,
We know that the COVID-19 pandemic is presenting us all with unprecedented challenges and hardships. Achieve is no different – this is a challenging time for our organization. To comply with the Governor's orders and keep people safe, we temporarily suspended services. This also means we've been receiving zero revenue for services since we closed our doors on March 19. Yet we continue to incur significant costs like rent, utilities, and insurance – expenses we're obligated to pay whether we're open or not. And unlike schools which receive pay for closures (like snow days), Achieve does not receive any funding for closures.
We have had to furlough 70+ employees, but we still have to cover their unemployment and we have committed to providing their health insurance and other benefits. The cost of health insurance alone is about $50,000 per month. From our March 19 closure date through the end of April, our expenses will be over $312,000, while we are generating no revenue from the government to help cover it. At that rate, it won't take long to be overcome with debt, jeopardizing the services we have been providing for over 50 years.
Our circumstances are not unique. Emergency funding is urgently needed to help all day and employment service providers pay for the fixed costs incurred until it is safe to fully resume services. We are looking to our state legislative leaders like you, to ensure emergency funds are directed to disability day and employment service providers now. We cannot come back from this crisis with a decimated infrastructure for these crucial disability community services, where people with disabilities will not have access to innovative, individualized supports during the day.
I am asking you to please push to pass the Disability Day and Employment Services Fixed Cost Relief legislative proposal as soon as possible. For a copy of this legislative proposal, please contact any of the below leaders of MOHR (the statewide association of disability day and employment service providers).
Lynn Noren, MOHR Government Affairs Committee Chair: lnoren@rise.org
Julie Johnson, MOHR President: jjohnson@mssmn.org
Kevin Goodno, MOHR Government Relations Support: KGoodno@fredlaw.com
Anni Simons, MOHR Government Relations Support: asimons@fredlaw.com
Sincerely, <Your name and address>
Stay Connected with Achieve