Board and Leadership Team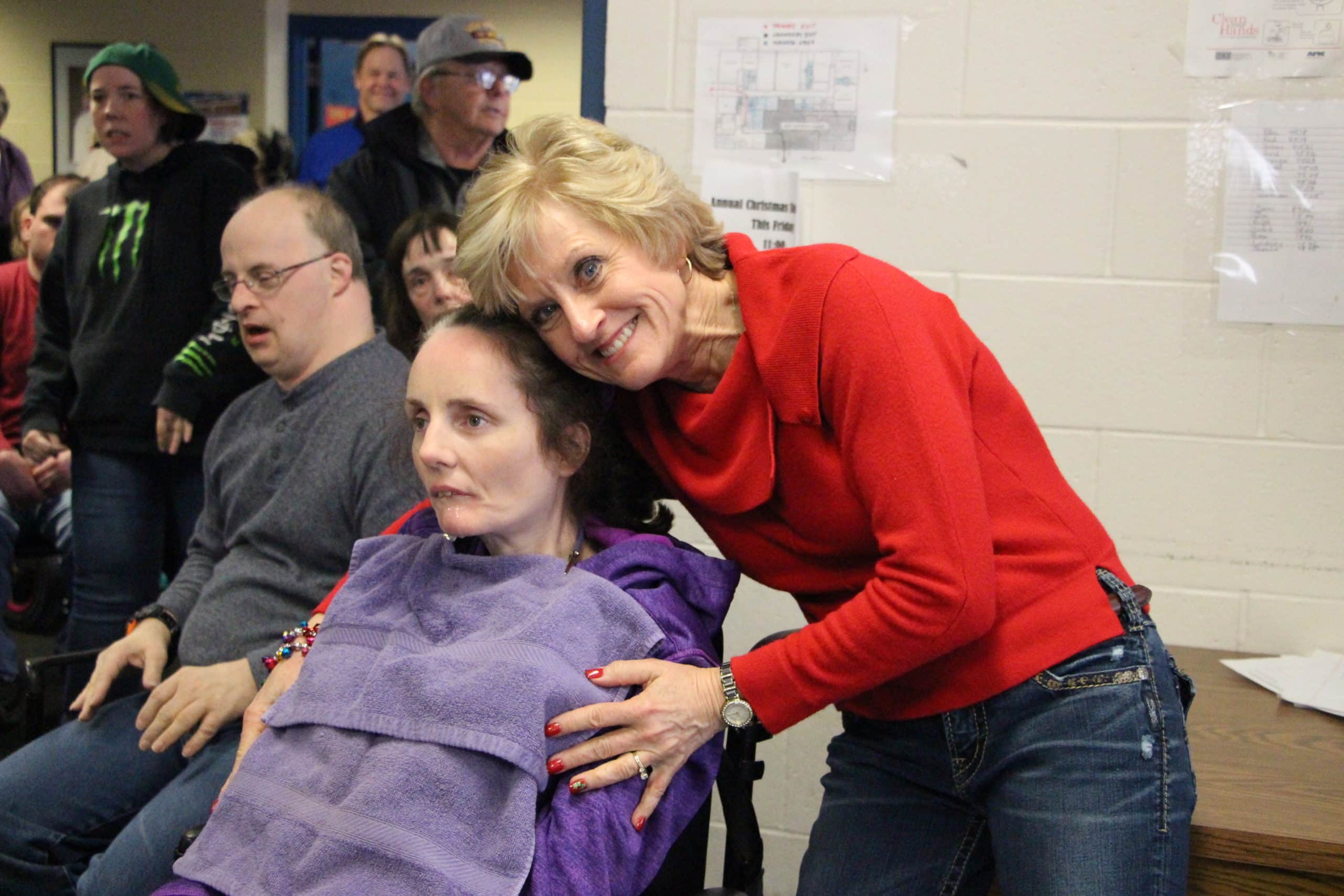 Brenda Ammerman

Brenda brings over 35+ years of expertise in the Medical Insurance Industry, serving in various management positions. 
She currently works in the Contract Reinsurance Division at Guy Carpenter, a global risk and reinsurance specialist (A Marsh McLennan Company), located in Edina, MN.
Brenda is passionate in giving back to her community through past involvement as a Board Member for Partners in Hope (animal therapy programs for children with autism) in Coon Rapids, MN, and her continued dedication volunteering for local community organizations. She has served as a Board Member at Achieve Services since 2021.
Brenda resides in Chisago City, MN, with her husband Stan. In her leisure time, she enjoys reading, embarking on hiking adventures, and tending to her garden. Above all, she cherishes the precious moments spent with her two grandchildren, creating lasting memories filled with love and laughter.
John Bennett

John Bennett has a long career in banking and currently serves as vice president of 21st Century Bank.
As Mr. Bennett continues his work "building on life's resume," he is dedicated to service as well as being a tireless fundraiser; he is associated with more than 15 community giving agencies including the St. Paul Winter Carnival, The St. Paul Port Authority, the Midway Chamber of Commerce in St. Paul. Mr. Bennett also works with the St, Paul Park Conservancy and is excited to work tirelessly at improving the parks throughout St. Paul. He works with the National Football League and the Players Association. Mr. Bennett was recently recognized as Volunteer of the Year by the Midway Chamber of Commerce. Mr. Bennett has been assisting Achieve Services as a board member since 2013.
Sandy Crawford, Secretary

Sandy Crawford joined the board in 2011, a year after her son, Jameson, became a participant of Achieve Services.
Sandy is the President of Mead Metals, a metal service center specializing in narrow width slitting of high-quality specialty metals in less than mill quantities. As Chief Operating Officer, she is in charge of daily operations at the production and distribution facility located in Shoreview, MN.  She previously was Vice President of Asset Based Lending for M&I Marshall & Ilsley (M&I) Bank. In 2010 she left banking to work for Mead Metals, her longtime client.
After earning her Bachelor of Science degree with a double major in accounting and business management from the University of North Dakota in 1983, Sandy spent her early career years as a CPA before moving into the banking and finance world in 1997.
Currently Sandy serves on the advisory board of directors for Lubrication Technologies, Inc., the Midwest's largest distributor, blender and packager of lubricants, fuels and related fluids.  Other organizations she is involved in include: the Association of Women in Metals, the Metals Service Center Institute and The Precision Metalforming Association.
Pam Deal

In addition to her role with Achieve Services, Pam currently serves on Mercy Hospital's Foundation Board.
Past service includes serving on the boards at Alexandra House, Anoka Ramsey Community College Foundation and St. Stephen's Church. Pam, and her husband, former Achieve Services board member Jim, are owners of PSD Holding, LLC and its subsidiaries. When not working or volunteering, the Deals enjoy family time with their six grown children, 19 grandchildren and 26 great grandchildren. They enjoy spending summertime at their lake home in Alexandria and winters at their home in Florida.
Denice Escate

Denice Escate has been working in the Retail and Technology industry for 30 + years.  She has worked for Appriss Retail leading their Customer Success Project Management Office for over 10 years.
Denice currently resides in Southern Minneapolis. She comes from a large family that she loves spending time with. Besides spending time with her family and friends, she loves to cook, try new cuisine from local restaurants, entertain and travel across the globe.
Tami Hagen, Vice Chair

Tami Hagen has served on the board since 2015. She has been a production and administration manager for over 30 years.
Tami has worked in the manufacturing, financial and medical worlds, and has been at Medtronic for over 13 years. Seeing the impact Achieve participants have at Medtronic, Tami is an advocate for community-based employment.                         
Tami resides in Stacy with her husband, John. They have been married for over 37 years, having two children and three grandchildren. Besides spending time with her family, Tami enjoys golfing, boating, and traveling.
Susan Holden

Susan Holden is a former chair of Achieve Service's Board of Directors and has served on the board since 2006.
Susan is a partner and shareholder in the law firm of SiebenCarey, PA. where she has spent her career representing clients in a variety of complex personal injury and wrongful death claims. She focuses her practice in cases involving trucking and automobile accidents, product defects, construction accidents, medical malpractice, and class action matters involving privacy and data breaches. She is certified as a Civil Trial Specialist by the Minnesota State Bar Association, a distinction achieved by less than one percent of women lawyers in Minnesota.
In addition to her successful trial practice, in 2008 Susan was appointed by the Minnesota Supreme Court Chief Justice to chair the Special Master Panel in the specially created compensation process for survivors of the I-35W bridge collapse. She served as President of the Minnesota Chapter of the American Board of Trial Advocates in 2018, President of the Minnesota State Bar Association in 2005-2006, President of the Hennepin County Bar Association in 1999-2000, and has received numerous professional awards and distinctions. In addition to serving on Achieve Service's board, Ms. Holden serves on various other boards including the Board of Governors and House of Delegates of the American Bar Association, Advisory Board of the Minnesota Women Lawyers, the Assembly of the Minnesota State Bar Association, and the Boards of Directors of the Academy of Certified Trial Lawyers of Minnesota and Lakeland Public Television.
Brenda Kratsch

Brenda Kratsch is a graduate of Centennial High School in 1983 and attended Anoka Ramsey Community College, receiving an AA degree in 1985. She worked the next year to save money to attend the University of Minnesota Carlson School of Management and graduated in December of 1988.
Brenda worked for Deluxe while in college and full-time from January 1989 until September of 2001 in customer service, management and online technology.
She married her high school sweetheart, Charlie, on October 12, 1991 and is the mother of two boys, Ian (27) and Sean (25).
Brenda has been a resident of Ham Lake for 25 years this coming September. Her older son currently lives with her and her husband, and their younger son lives in Phoenix with his fiancé Jessica and are getting married in December.
She spent many years as a volunteer at McKinley Elementary, Roosevelt Middle School and Blaine High School, and also served on the Mercy Foundation.
Brenda enjoys golf, books and travel. She recently visited Alaska and is super excited to be in Arizona more this winter!
Patty Krieger

Patty is currently the CEO, Co-Owner, and Visionary for Netrix Information Technology, Inc.  (Netrix IT). Patty has over 25 years of personal IT industry experience, beginning with developing the Government/GSA Department for Northgate Computers in 1987 to providing complete IT solutions to current clients.
Patty started a National Peer Group in the Technology world 3 years ago to allow for peering at all levels of an organization. She is passionate about mentoring and coaching and this is a great tool to facilitate those actions. 
In addition to her dedication to Netrix IT, Patty has been a passionate advocate and volunteer for the Down Syndrome Association of Minnesota. Her involvement includes 24 years as a coach, supporter, and mentor in Special Olympics. 
Additionally, she currently holds an executive board position at NAWBO (National Association for Women Business Owners- MN), an organization that advocates on behalf of women business owners and the issues that impact their companies. 
Patty lives in Blaine, MN with her husband of 38 years. They have a blended family of four children and four grandchildren. She enjoys bowling, gardening and woodworking in her spare time.
John LeTourneau

John LeTourneau, father of a son with disabilities and executive leadership coach with CO2 Partners, brings a dual perspective to the Achieve board.
As a father, John sees this position as an opportunity to advocate for people with disabilities. In addition, his business acumen is a benefit as Achieve moves forward in strategic plans for the future. John has a BS degree in management and finance St. Cloud State University. John understands challenges and how to create opportunities from those challenges. He is married to wife, Patti. They have two sons, Miles and Mitchell.
Jim Steffen, Treasurer

Jim Steffen is a Certified Financial Planner™, as well as the CEO and Founder of Trott Brook Financial, a Registered Investment Advisory firm located in Anoka, MN.
Jim has degrees in Business and Economics from the University of St. Thomas, and has been working in financial services for over three decades.
Jim is married to Lisa and they have two children, Lauren and Tommy. Jim enjoys spending time outdoors!  Living on the Rum River in Ramsey he enjoys smallmouth bass fishing and frequently donates guided fishing trips to local non-profits. Jim and Lisa also enjoy spending time in Cave Creek, Arizona where they own and operate the Full Circle Ranch Bed & Breakfast.   
Natalie Steffen

Natalie has worked over 50 years in the health and human services arena. She has been on the Achieve Board since 2003.
She served 12 years on the Met Council appointed by both Governor Ventura and Governor Pawlenty. Natalie is a former Anoka County Commissioner, former Ramsey City Council member as well as a former Commissioner of the Department of Human Services. Natalie loves to travel the world, cook and be with family, she currently resides in Ramsey.
Kathy Svanda, Chair

Kathy Svanda worked for the State of Minnesota for over 30 years in the environmental field at the Pollution Control Agency and the Department of Health.
She is retired and enjoys outdoor activities, especially fly fishing and skiing. Her daughter, Kristina, has participated in the Achieve program since 1979 and currently works at the Anoka County Government Center. Ms. Svanda has been on Achieve's board since 2004.