A Parent Responds to Minnesota's Employment First Proposal

Recently the Minnesota Department of Human Services released a draft of an Employment First Policy which will affect job opportunities for people with disabilities. Achieve CEO Tom Weaver and several members of our Board of Directors have already penned a response to this policy.
Now a local Minnesota parent of a person who would be affected by this policy has weighed in. Read her story below. People with disabilities and their families have the most at stake in this process and we hope this letter encourages other parents to share similar stories.
(NOTE: Names have been changed to protect the privacy of the individuals mentioned.)
—————————————-
I am writing in response to the Employment First Draft I just received from a friend. I was totally shocked to discover the comment period ends today and I was not aware this was a policy discussion taking place.  My son just graduated in June from his transition program through District 287, I would think we would be a family that would have been informed of this type of policy discussion. I am also an active parent in the disability community through county programs, Special Olympics, PACER and The Arc to list just a few, and am concerned that I was unaware of the Employment First Draft comment period.  I believe the majority of parents have no idea about the changes that are on the horizon for their family members. I am concerned that this is another disability policy decision that is being pushed through without more effort put forth to get comments from the people these changes will impact. How were the individuals and families that will be impacted by this policy change informed and contacted for input? Please do not let this be another policy decision enforced on the people living with disabilities, by the "powers that be" thinking they know what is best for them. If you ask the community that this will impact you will hear a very different story. Please work to extend the comment period and make a focused effort to notify individuals and families that the Employment First policies will affect – now and in the future.
Personal Story
I would like to tell you about my son Alec, and use his life as an example of how far off this Employment First Draft is.  Alec is a 21-year-old young adult who has Down syndrome. He is a global messenger through Special Olympics, was awarded "Changing Attitudes – Change Maker" a couple years ago by The Arc GTC, and helped execute a "Spread the Word to End the Word" (retarded) campaign at Wayzata High School. Alec also is "competitively employed" by the Employment First Draft Standards, but that does not give the whole picture. Sure Alec works, but he works 1.5 hours a day over the lunch hour. He works at two local establishments where we had personal connections.
Are you thinking eight-hour workdays?
What is not discussed in the Employment First Draft is the other hours of the workday when Alec is not employed. Because I am back in school working on my Masters Degree In Social Work, I have some flexibility to support Alec's schedule and use direct support staff hours in the afternoon. This option does not work for most families because there is no backup for the many situations where the PCA/direct support staff cannot work due to illness, car breakdowns, personal emergencies, and weather related problems. This responsibility falls back onto the families that are already managing all the hours outside of the workday. I found it very difficult to work a job without using all of my own personal sick time and vacation time to cover for staff as well as Alec's sicknesses, doctor appointments and annual holidays and closed school/program days. This left me with no vacation time to be with family, friends or to attend to my own self care created by the stress of raising a child with special needs.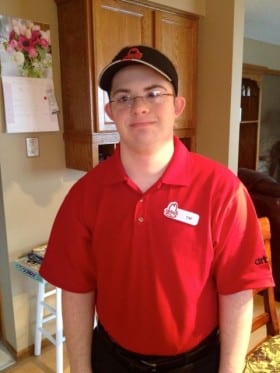 Looking at Alec's Quality of Life
When looking into future living options for Alec I was told by several program directors that they assume all tenants will be gone from 9-4 either working or in a DT&H program and that there are no staff to support someone who works 1.5 hours a day. Alec is physically active but 1.5 -2 hours of work is about all he can do each day. Once in a while he works a noon shift and evening shift on the same day. Alec is exhausted the next day and would never be able to do this on a long-term basis. Day programs do support individuals that work in the community by providing quality time with peers and less stressful interactions that enrich an employed person's day in many ways that employment cannot. Most individuals do not have the option of a family member as backup for absent staff, and this option for Alec will end in two years. My son is the only person of 10 people in his graduating class that had employment to look forward to after graduation from his transition program. I am not sure where all the jobs are that the Employment First Draft is based on. Do you have an accurate number for the people this policy will impact in Minnesota? Do you have an accurate figure for the number of jobs needed now and in the future of this growing population?
What About Options?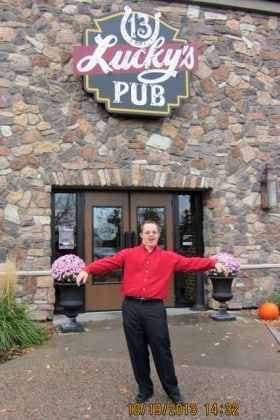 The other concern that I have with the Employment First draft is the missing language for options to meet individual needs as outlined in the Olmstead reports. The Employment First policy strongly speaks budget cuts, reducing costs and again balancing budgets on the backs of individuals living with disabilities. Employment is a rewarding and wonderful option for the individuals that can be successfully employed once they find a job. Comparing our personal work life and what gives us satisfaction as the "norm" for all people is not responsible policy design. The Employment First draft also does not address the aging individual that can no longer work successfully in the community. Often this impacts a person living with a disability in their 40's or 50's. I do not feel this policy is looking at the disability population as a whole, and is also short sided in long range planning. Also, the mandatory additional paperwork for the exception rules appear to be time consuming and punitive for the individuals that are not able to work in the community.
Review The FINDS Study
I would like to refer you to the FINDS study by The Arc. You will find that actually DT&H programs only account for a small percentage of the population where over 80% of the individuals surveyed in the FINDS study are not working or in a day program. I think the emphasis for the Employment First policy should be focused on the 80% rather than the 6% that are in DT&H programs. I am not sure what the numbers are in Minnesota, but further research and documentation of our disability population in Minnesota needs to be explored to make sure such a radical policy change does not negatively impact our disability population. Un-funding DT&H programs is not where employment changes should focus. First create and find all the jobs that are mentioned in the Employment First Draft and find full day employment for the individuals with disabilities that have "complex and significant" disabilities.  Then begin the discussion of eliminating a valuable option such as day training centers if you can prove they are no longer needed. Also keep in mind individuals like my son Alec, who do well in a community job that consists of only 1.5 -2 hours of his day.  What about the other hours of the day that he needs supervision and guidance. He is not independent enough to be alone the rest of his day and has a 24/7 health and safety plan with the county because he needs it.
Thank you for your time and consideration of my concerns, not only for my own son, but on behalf of the many parents and athletes on my son's Special Olympic team who are also unaware of these policy changes that are outlined in the Employment First draft.
Respectfully,
Mary White
Stay Connected with Achieve