PERSONABILITY: Jordina Bruvold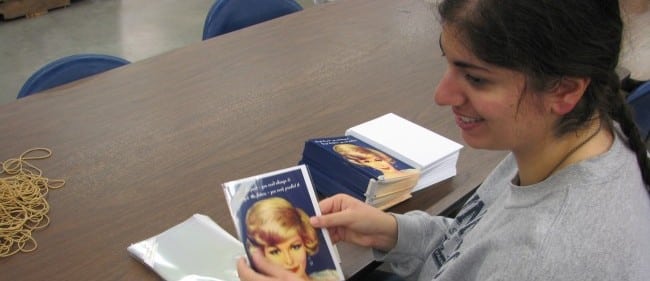 You don't have to walk around the offices of Achieve Services for very long before coming across a painting made by Jordina Bruvold. Jordina has over 7 pieces on display in hallways and work rooms and the number seems to increase every week. Subjects of her colorful artwork range from animals and people to elements of the supernatural like ghosts. Painting is a great way for her to express her creativity and she enjoys doing it as often as she can. Check out a full gallery of Jordina's latest work at the bottom of this post.
Along with her artwork, Jordina is a hard worker and spends most of her day shift working on greeting cards or cans. We had a chance to interview Jordina about her experience at Achieve:
What do you like about working at Achieve?
JORDINA: I like doing cards. The cards have animals on them like peacocks, blue birds, and three bunnies having a birthday party. I also work on cans. I put stickers on the cans.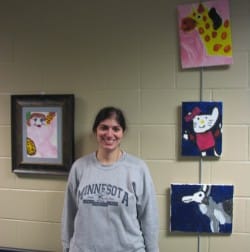 Have you done any jobs in the community?
JORDINA: I work on the recycling at the U of M. We throw recyclable cans and bottles away and get rid of the icky old food. Yuck! I like that job, though. I also work at Holiday with Mike. We mop the floors and spray the windows.
What do you like to do for fun?
JORDINA: Last vacation I went duck hunting with my dad. We shot ducks and I shot a wood duck. I did a very good job and my dad said "congratulations." I also go to the movies. I'm going to the movies with my girlfriend Sarah to see Cloudy with a Chance of Meatballs 2. Oh yeah, I like to sing.
What type of songs do you like to sing?
JORDINA: "The Eye of the Tiger" (Hear a clip of Jordina singing below.)
What else do you enjoy about Achieve?
JORDINA: I like getting my paycheck. I'm getting mine soon and I'm going to buy some pictures at Walmart. Also, I'm going to buy some fashion clothes and get my eyebrows waxed and lip waxed.
Are you going to come to the fundraiser next week?
JORDINA: Yes! I am going to dance there. I love to dance.
Here is a gallery of Jordina's latest artwork:
Personability posts are an ongoing feature on the Achieve blog. Stay tuned for more interviews with people like Jordina!
Stay Connected with Achieve