Info. Session on Changes Coming to Disability Programs in Minnesota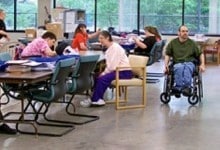 With the Olmstead Plan, changes to funding, and other items that may potentially be on the legislative agenda, we know that changes are coming to many programs in Minnesota that serve people with disabilities. Achieve Services, Inc. is putting together an information session to discuss these changes and inform families on what they can do to support our programs. Here are the details:
WHEN:
Tuesday, June 28th at 6:00PM
WHERE:
Blaine Human Services Building – Room 300 [MAP]
1201 89th Ave. NE
Blaine, MN 55434
WHO:
All families, guardians, and supporters of Achieve Services and its participants.
RSVP to Jim Rooker: 763-717-7844 or jrooker@achieveservices.org by June 24th
In the meantime, please visit our Advocacy page to learn how you can support Achieve Services, Inc. and other disability programs.
Stay Connected with Achieve