Support Achieve this fall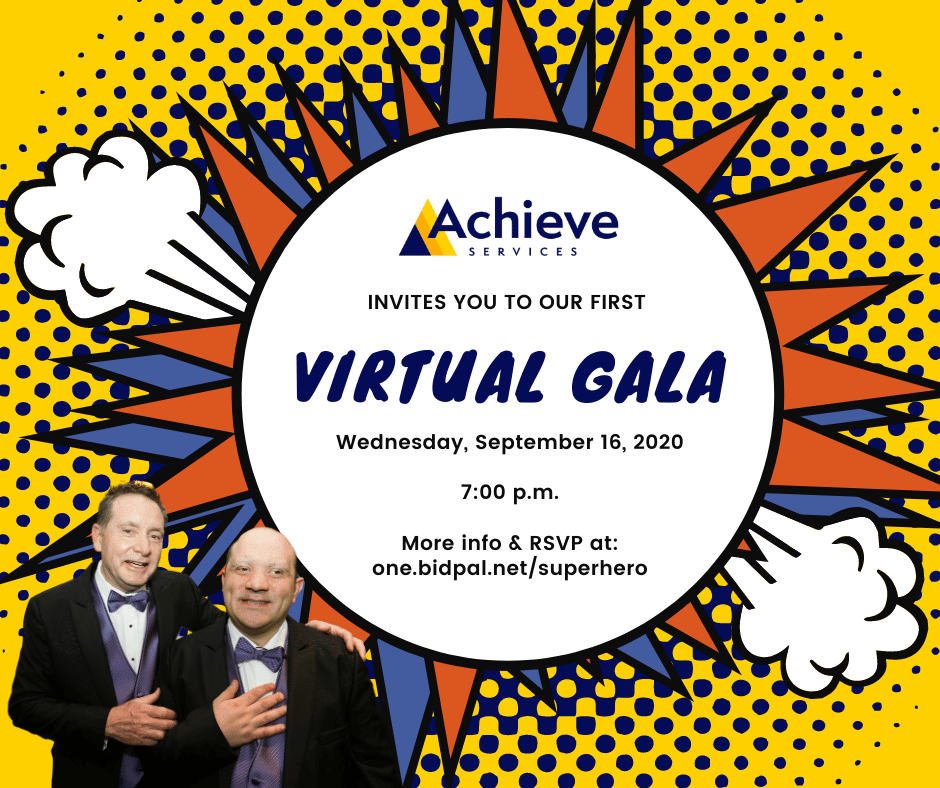 Achieve has made some difficult decisions to ensure we keep our community safe and healthy this fall. Our Spring Gala, typically held in April, was postponed with the hope we would be able to gather in person this fall. Unfortunately, we still do not feel like meeting in person is the best option at this time. We have also decided to cancel our Fall Fundraiser, which was scheduled in October.
However, we will be bringing all the elements you love about our Spring Gala and Fall Fundraiser to your home! This year's event will be held on Wednesday, September 16 at 7:00 pm (CST) and will be fully virtual. There is no cost to participate, and you can participate anywhere that has an internet connection.
The 30-minute program led by Emcees John and Miles LeTourneau and CEO Tom Weaver will take place on YouTube Live. Following the program, we will be hosting a dance party on Zoom featuring a playlist created by DJ Nate. You'll also have an awesome selection of premiere and silent auction items to bid on.
We will also be recognizing long-time partners Don and Jamie Kveton, Village Bank, with the 2020 Legacy Award.
It's free to participate. All you need to do is register here: https://one.bidpal.net/superhero/ticketing.
We'll text and email reminders, so you know when it's time to start bidding and when to log on to view the program live.
The pandemic has disproportionately impacted people with disabilities – both physically and mentally. Funds raised will ensure that Achieve will continue to be there for our 195 participants who rely on us for opportunities to lead meaningful, self-determined lives. Your contributions will allow us to safely resume in person services, expand virtual service offerings, and retain our superhero staff.
Stay Connected with Achieve